The outbreak impacted the majority of enterprises globally, including the pet care industry. As the economy fell, so did corporate revenue. As a result, pet grooming businesses are slowly rebuilding following the pandemic, providing essential services from nail clipping to bathing – all of which are essential for maintaining the health of your clients' beloved pets.
As a result, the top goal is to get past the pre-and post-effect of the pandemic. Even these pet-care firms are limited to customer appointments due to today's circumstances.
Pet care businesses must be systematic in their customer data, transactions, and engagement schedules to succeed and flourish in the market. Dog grooming point of sale systems is among the solutions that may help with employing day-to-day operational processes with clients and effectively managing the business.
This article will discuss the usefulness of dog grooming point of sale systems to the pet care services industry.
Features of Dog Grooming Point of Sale Systems
#1. It regulates the number of assignments for each groomer.
This pet grooming POS system helps to protect both clients and groomers by following safety regulations. Clients may automatically check the groomer's available time before making an appointment. Overall, it's an intelligent software application that limits the number of people coming into the facility, promoting social distancing.
#2. It displays the client's availability status.
Clients may quickly search available dates to reserve or opt for walk-ins whenever they wish to send their favorite dog to a pet care establishment. It will save you time in the future when arranging pet grooming appointments.
Furthermore, you can avoid any expenditures incurred by the client if he postpones the scheduled appointment. Your customers can obtain the information via their mobile phones – thus, eliminating the need for them to visit the location.
#3. It allows customers to choose their preferred groomer for their pets.
Regular clients may choose their preferred groomer when requesting a specific pet care service. They can also check their availability at any time. A client selects a groomer based on the quality of work performance that is appropriate for their pet breed. Thus, they typically prefer a groomer because their pets are at ease whenever they're around, which is essential to avoid causing distress to the animals.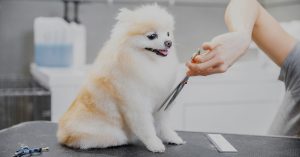 #4. It notifies customers of groomers' availability.
It's vital first to determine whether the client's schedule will work with the groomers. To avoid scheduling repeat appointments, the pet grooming business software sends out messages to consumers to notify them when the groomer is no longer available for booking. This clears up any confusion for both the client and the groomers.
The Benefits of Using Dog Grooming Point of Sale Systems In The Pet Care Industry
Allows the system to calculate the hourly rate.
When you operate a pet care business, the dog grooming point of sale systems can help you make things easier. It enables the system to detect and apply the appropriate hourly charge automatically. The pet breed, demand for grooming services, and the pet's condition are all factors that influence the charge rate.
Establishes a timetable for all pet-care services and serves as a resource for clients.
The clients can see all the pet care services that the company provides. They can schedule any of these available services in a given week. There's no need to do it manually; click the upright date to track and change the program. It will appear on your customers' screens automatically to their advantage.
Sets commissions for groomers who work satisfactorily.
Automatic commissions to the groomers will benefit any pet-care firm in a pandemic since it eliminates further communication between the management and groomers. Every pet care business owner can keep track of the performance and customer tips given to every groomer using a dog grooming point of sale system. It depends on their level of experience, the percentage they will offer, and their bonuses.
Customize blocks based on the amount of time required for each activity.
Having personal contact with everyone is becoming increasingly difficult. The secret to success is to have a well-structured business. As a result, dog grooming point of sale systems can help the entire pet care business system. Managers can easily change the blocks of the upcoming schedule based on each service's time range. Changing colors to make it easier to recognize according to time is beneficial for any pet care facility.
It offers a user-friendly mailing system for communicating with customers.
The pet care company can address any customer problems. It also strengthens the system across the entire organization and allows for greater flexibility in customer communication.
Takeaway
Point-of-sale systems for dog grooming ensure that your expertise is utilized at every client appointment. It's an all-in-one client database, display, and transaction platform that allows you to give every guest a personalized experience.