The pet industry has evolved ever since the pandemic began. Adoption rates increased at the start of the pandemic. In the United States, there were 700 applications for fostering in New York. In countries such as Malaysia, Singapore, the United Kingdom, New Zealand and the United States, adoptions from animal shelters surged.
Quarantine had made people feel isolated, and it became the main reason for adopting cats and dogs. Pet companionship during the pandemic eased owners' anxiety and isolation. The increase of pet ownership also increases the need for pet care products and services. 
Pet care services and businesses need to keep up with the changing demands of the pet care industry. Grooming, boarding, and daycare are the most popular and vital fields of the pet care business. Integrating pet kennel software provides efficiency in management and records.
Pet Kennel Software Improving the Dynamics in Pet Care Business  
In the early points of the pandemic, there was an upsurge in global interest in pet adaptations. Every crisis has its own set of obstacles as well as possibilities. Since the pandemic, pet care has changed significantly, like many other essential services.
The changes in the industry differed in degrees, depending on the sector. For example, dog walking is no longer in high demand, but grooming and training are still in high need. With the increased demand for services, enterprises need to have the appropriate technology to help with dynamic pet care.
Pet kennel software is the appropriate digital technology that encourages the transformation of pet care procedures and operations. For business owners, automation smoothens the process. Scheduling for clients and groomers creates a safer, efficient, and organized pet care business.
Kennel Software Benefits for Various Pet Care Business 
The increase of pet owners means more clients for pet care enterprises. Grooming, kennel, and cattery have become busy and disorganized with numerous clients. Kennel software technology is vital for optimum kennel jobs.
The rise of pet adoption in the pandemic has urged businesses to utilize kennel management software to increase productivity. Listed below are the top benefits of pet kennel software: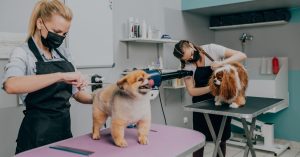 #1 Organized Processes and Systems
Dealing with a busy kennel means organizing schedules, and other administrative processes come first. If not coordinated, owners, groomers, clients' pets, papers, and additional staff information and programs can get disoriented. Staying organized is critical for reducing stress between staff, clients, and even pets.
Searching for the best pet kennel software reviews assist in acquiring the appropriate technology in the kennel business. Organizing processes and reservations by kennel software helps reduce tension, allowing for a stress-free environment for pets.
#2 Paperless Transactions and Records
Like all industries, the kennel business thrives by keeping records of every transaction. Misplaced information and documents on paper create disorganization and even decline. Desks cluttered by stacks of papers slow down productivity.
Pet kennel software allows paperless recording and safe data storage in one location. Not only does it reduce carbon waste, but it also improves productivity and organization.
#3 Better Customer Experience Provided by a Comprehensive Software
Pet owners searching for a 'pet kennel near me' expect the nearest kennel to have exceptional customer services. Customers will gain from cloud-based kennel software and improve customer experience. Pet owners can create online reservations by the software.
The new competitive edge provided by kennel software permits easier accessibility and use.
#4 Economical and Time-Saving 
Being economical during the COVID-19 pandemic is critical to keep pet care shops afloat. Daily activities and tasks will be more accessible with suitable software with beneficial integrations—pet kennel software reviews show a feature that tracks finances, costs, and generating invoices.
Faster scheduling and less laborious paperwork by adopting scheduling software into the pet care business save long hours.
#5 Understanding The Business 
For owners of grooming shops and pet kennels, the aspect may be difficult to understand. A decent kennel software provides a variety of reports on the strengths and weaknesses of the business. It's simple to track assets, which kennel jobs are the most profitable, and optimize marketing methods.
Saving time, resources and finances can be done by integrating a kennel management system. The system automates and simplifies all tedious processes without too much effort from clients and staff.
Pet Care Services and Business in the COVID Era
It's strenuous to overlook the pandemic's broad impacts as a new Omicron strain emerges. All areas of society have been affected by the virus. From large corporations to small local businesses, COVID is creating a downturn.
Consumption of pet care will increase as many countries' adoption rates rise. The United States' pet health industry rose to over $100 billion in 2020. The statistics will grow by nearly 6% in the following years. Daily essentials for pets such as kibbles help economic recovery.
Kennel jobs will rise as well. As per the United States' Bureau of Labor Statistics, an estimated 33% of 2020's jobs will increase in 2030. On average, there will be about 66,200 job openings for animal care and service workers during the next decade.
The list below are examples of pet care services that can boost customer and pets' experiences better:
Obedience training
Doggie daycare
Socialization training
Food and medication
Conclusion
The risk of being ill is high during the COVID-19. Simple interactions with animal companions limited the feelings of isolation and depression. Adopting a new furry companion had risen in the pandemic era, as well as the need for pet care services.
Grooming is now the fastest growing sector in pet care services. With pet kennel software, clients, groomers, and business owners have easier reservation processes. The software's automation features: Organization
Economical
Paperless Transactions and Processes
Convenient and User-Friendly
Vital Insights on Business
Kennel business does not need to be complicated. Comprehensive pet care businesses for clients, groomers, and business owners are possible by integrating reliable kennel software. All kennels differ, but the common aspect is to provide clients with the best experience and organization to groomers.