Business competition is inevitable in any business venture, including pet daycare facilities. When you are just starting up your pet sitting business, it can be challenging to differentiate yourself from the competition. You need to make many decisions to broadcast your services and gradually make your mark.
Decide about the type of services you are going to offer and its prices. Educate yourself on the different marketing and promotional strategies to grow your pet daycare business.
Adding Variety of Pet Daycare Services
Creating more options for your existing and potential clients can separate you from the competition. Nevertheless, you must carefully craft your business plan because more service options may not always result in long-term business practices.
Successful dog daycare kennel and boarding business often provides dog walking services and clients can access these services with pet daycare software. It is a critical service because it provides a robust flow of income throughout the year.
Use this information to designate the types of dog walking services you want to offer. Dog walking businesses have two categories – individual and group walk. However, regardless of which category you are going to offer, providing a wide range of dog walking options can significantly impact both categories. Here's why.
Individual Dog Walking Options
If you want to include 30-minute, 60-minute, and 90-minute dog walking services in your pet daycare software, you are limiting your facility and your staff the actual number of walks you can accomplish within the most in-demand time frame, which is midday.
For example, if three clients request a 60-minute individual dog walks between 11 am and 2 pm, you can only take those three clients with minimal upsell. Nonetheless, if you provide 30-minute individual walks, you could schedule six clients during that same time frame, thus increasing sales by sheer volume.
Group Dog Walking Options
If you provide group dog walking options, offering different time schedules using daycare schedule software can be challenging. If you have six (6) clients requesting two or more dogs to schedule different time lengths, you'll be in for a disaster. Part of growing businesses is increasing demands. It can be challenging to operate 30-minute, 45-minute, and 60-minute group dog walking options. It would be best if you could be efficient with your time to maximize your returns.
Having multiple clients can result in a time constraint between dog walks schedules. For example, one client may book the 30-minute walk and be scheduled to go on the 60-minute walk because of time constraints. If your clients discover they could enjoy the benefit of the 60-minute dog walk with the price of the 30-minute category using the daycare software for pets system, they could take advantage of paying for the lower category dog walks.
How Do You Stand Out in a Competitive Pet Daycare Business Market?
It would be best to start your pet care business simple and offering one or two of the most popular dog walks using daycare business software. Most clients look for reliability, flexibility, and trustworthiness in a pet daycare service company, and they usually research the company's reputation online.
Rather than competing at the price point, focus on building your reputation by establishing rapport with your new clients and solidifying your relationships with your existing clients. Use the daycare software for pets system to reach out to your clients with promotions and discounts.
Make your company message heard by creating a compelling marketing campaign based on your values, attributes, and background. You can emphasize this when you use pet daycare software to manage your business.
Setting standard dog walk lengths allows you to grow your company, organize work schedules, and increase your business bottom line. You can use the pet daycare software to provide your clients with these pet care service alternatives.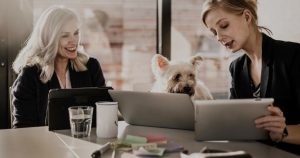 Keeping Your Pet Sitting Business Successful in Any Economy
The economy can rise and fall, part-time pet sitters proliferate, and other pet care businesses are opening up and competing with your business. It may cause you to worry about its impact on your business.
Fortunately, people spending on pet welfare remains high, and the need for pet care services increases yearly. By carefully crafting your business strategies. How can you keep your pet care business success in any economy? Here are some ways:
#1: DIVERSIFY YOUR PET DAYCARE SERVICES
Different kinds of pets have different needs. And with the economy fluctuating and causing a decrease in the number of your pet-sitting clients, offering other services may benefit your existing and potential clients. Use the grooming and daycare software
to provide daily dog walks, pet taxi services, grooming, and kennel boarding services.
When talking about pets, dogs and cats remain on the top list. But every pet care business must understand that the pet daycare business isn't only for dogs and cats. A market study from Packaged Facts research firm showed 116M fish, small mammals, birds, reptiles, and other kinds of pets. 7.2M households take care of fish pets, 4.6M have birds as pets, 2.5M have pet rabbits, and 1.8M households with reptiles.
#2: USE ADVERTISING STRATEGIES EFFECTIVELY
Letting the world know that you provide a variety of pet care services, not just for cats and canines, allows you to reach a wider audience. Use advertising strategies effectively to promote your business. Leverage your knowledge, skills, and expertise in taking care of all types of pets. If you have a certificate specializing in a different kind of pet, include it in your marketing and promotion efforts. Speak with friends or family members who own unique kinds of pets and let them know that you have passed the certification program. Take time to volunteer in pet rescue groups or facilities specializing in particular species to increase your knowledge and experience in caring for these species.
#3: ANALYZE YOUR SERVICE AREA
When business is slow, it can be tempting to take every pet sitting and pet care service request without considering your overhead costs. Giving pet care services outside of your immediate service area will incur additional time, money, and effort for very little profit. Analyze your service area and add a mileage fee for clients outside of a specific range. Focus your marketing efforts on getting new clients in nearby neighborhoods that offer the most extensive clientele.
#4: HIRE STAFF SITTERS TO HANDLE OTHER ASSIGNMENTS
If you plan to expand your pet sitting business, you'll need to decide if you should hire employees or work with freelance pet sitters. Identify the best pet sitters for your business. There are times you need to turn down a service if you feel uncomfortable or not sure if you can deliver the assignment correctly. Turning down a pet assignment can be for several reasons, and you should always follow your intuition. Clients can schedule pet care services through your grooming and daycare software integrated into your website.
#5: EXPAND YOUR MARKETING REACH
The impact of online marketing reaches every computer or gadget in the world. The majority of people nowadays have internet access through a gadget. People are always online and checking their smartphones throughout the day. Integrate boarding and daycare software in your website to allow flexibility and access to your clients. It increases your chances of getting your business message across to your target audience.
E-mail and digital marketing campaigns offer simple and accessible ways to reach existing and potential clients. Set up your social media accounts, blogs, Facebook, Youtube, and Twitter using daycare business software to promote your business to local pet owners. Online promotion and positive reviews from satisfied clients can boost your business.
Don't also forget what the power of word-of-mouth recommendations can do for your business. A personal recommendation from people you trust is the most compelling and persuasive kind of marketing and promotion. Ask you are satisfied clients to leave a positive comment or feedback and recommendations on your official online accounts for the world to see. You can also ask your friends and family to spread the word about your pet care services. Give out business cards to share with their friends and family and offer deals and commissions when referring new clients.
Expand your reach to local pet stores, animal shelters, and pet groomers when you advertise your business services. Set a meeting with the facility managers and owners and give incentives when they allow you to advertise there. Provide coupons with perks and privileges, especially for their customers.
#6: MAINTAIN EXCELLENT PET DAYCARE SERVICES
Continue to offer superb pet daycare services, especially when the economy is down. A good word from satisfied clients will go a long way and outlast any economic downturn in your area. Adding more benefits to your pet daycare services instead of decreasing services leaves the impression that you are taking extra care of their pets and giving excellent service even in difficult times.
Keep your clients informed about what services you can do for them and the standards you conform. You can use boarding and daycare software to provide pet care checklists and progress cards after each pet-sitting assignment. Personalize thank you notes using cards, e-mails, and calls. Ask for feedback on how you can improve and expand your services to help them even more.
#7: MAINTAIN YOUR NETWORKS AND CONNECTIONS
Keeping positive relationships with fellow pet sitters online, in your neighborhood, and nearby pet sitting networks is a great way to receive support, referrals, and advice. Having a solid network of connections is critical for any business success regardless of the state of the economy.
Expand your networks outside the pet care industry professionals; you would never know who could refer a new client. Many referrals are from hair salon owners, medical facility staff, travel agents, bank tellers, and even police officers. You can provide details on how they can reach your business online with the daycare schedule software embedded in your business.
What Keeps Your Pet Grooming and Daycare Business Successful?
With the increasing number of households getting pets, the pet care industry continues to skyrocket. New businesses need to establish a strong foundation for their enterprise, while established professional pet care services wanting to maintain or increase their business must try to understand the behavior and preferences of local pet owners. Using this crucial information, pet grooming and daycare businesses can create a service package that meets their pets' needs. Leveraging business software technology such as integrating pet daycare software into your business operations can bring your business further.