Since the emergence of the pet industry in 1860, it continually grew and diversified into several pet services. Today, almost anything essential for dogs and cats is available in many pet shops, and clients can quickly request from pet facilities.
The pet industry continuously grows today as many households open up their doors to more fur babies. And with the increased number of pets also comes a rise in the demand for pet products and services. Pet business owners consistently strive to create a better pet boarding system and excellent grooming and daycare offers.
Technology and Pet Industry in 2021
Technology makes almost anything in the world easy, convenient, efficient, and effective. As the pet industry experiences explosive growth, developers and IT specialists endlessly find ways to streamline and drastically improve pet care service.
And because the millennials lead the pack of the total pet owner population, most potential clients spend most of their time online. And according to studies, millennials prefer doing things online and would choose the faster and more convenient option if given a chance.
Today, many tools and software exist in the pet industry. People now use doggy daycare software to admit their pets in daycare centers during work hours or weekend getaways readily. For boarding, kennel boarding software is the way-to-go to keep busy owners focus on their work or appointments while trusting that their pets are in safe hands.
There are still many technological innovations and development as of writing. Every tech company aims to provide its customers with ease of use, comfort, and accessibility when using its innovations. Technology will always provide a better way of doing things than usual, whether for food, toys, healthcare, hygiene, or fitness.
Challenges in Doing Business in the Pet Care Industry
The pet industry is chiefly for pet lovers. It is more than just a business, and if you own one, your passion for taking care of pets must come on top of everything. But despite the love and all the willingness you have in running your business, there are struggles that may come your way as you do business.
Here are some of the challenges you may encounter when doing business in the pet care industry and some tips on how to handle them.
#1. Late Payment from Clients
There are times when clients pay late, especially if you are accepting cashless payments in your shop. Worse, you have to contact them multiple times to remind them and have you get paid. The solution for this primarily is to stop accepting checks. You may get a merchant credit card machine to have control over their timing of payment. Although PayPal is also an excellent payment method, clients still have to do it, so you have no control over when you can get your money.
Another option for clients who only pay by check is to have them mail you a check before they leave. You may also set a rule that they must send payment at least three days before departure for them to reserve a slot. Or they may give a post-dated check for the final date.
#2. Burn Out Especially During the Startup of the Business
As mentioned earlier, pet businesses are mainly for those who are passionate about pets. But what happens to some people is that they love pets so much that they tend to care more about the pets than their business.
Staying up late and starting the day early in the morning may make you feel you are doing an excellent job in your pet business. However, this might leave you exhausted and less time for friends, family, and self.
#3. Unrecognized Importance of Money Flow
The payment process is one of the main concerns that businesses need to streamline. Your sales ensure the company is operating. Pay attention to your business's money flow. Otherwise, it will cost you hours, additional tedious tasks, and other unnecessary expenses. Keep into account all transactions as you don't want to be chasing people down for money or spending long hours creating countless invoices.
What Kind of Software does the Pet Care Industry Utilize?
Many software systems are now available in the market, and business owners usually experience difficulty choosing the most suitable one for their business. If you are one of them, below is a short overview of the appropriate software systems utilized in the pet care industry.
Doggy Daycare Business Software
Short-term daytime care for dogs should not be stressful for you and your client. A doggy daycare software will help you with the appointment process and cater to all queries and concerns before people avail of your service. Through it, you can:
• offer daycare packages in full detail
• create promotions with varying limits, rates, and expiration dates
• make special deals for clients having frequent visits
Most of all, having a doggy daycare business software will improve the communication system between you, your clients, and your staff.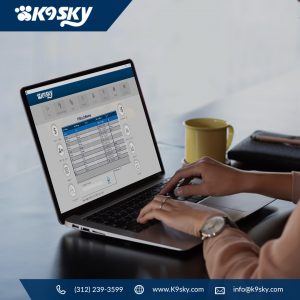 Pet kennel Software
Opposite to doggy daycare, pet kennel businesses cater and look after dogs for an extended period. This is perfect for people having a weekend getaway in places not allowed for dogs or office workers with out-of-town business appointments.
Veterinary Boarding Software
If you are a veterinarian or employ an on-duty vet in your boarding business, veterinary boarding software is the one for you. A veterinary boarding software is best for pet businesses that specialize in catering boarding pets with specific health conditions or those that need regular check-ups in the absence of their owners.
Software for Groomers
Grooming is one of the essential and most sought-after pet care services. Having software for groomers that helps organize the schedule and automatically updates last-minute reservations and cancellations is a game-changer. It helps groomers improve and make their services efficient to pets and their owners.
Pros and Cons of Using Pet Care Business Software
Growth and success stories proved that using software in pet businesses is beneficial. To highlight a few, here are some of the pros you can get with a pet boarding system.
• It helps you perform and provide your business easier, address team struggles, and comply with necessary deliverables efficiently.
• As time is money and does not wait for anyone, having the right kennel software in your business will help promote fast-time marketing.
• It is user-friendly, so you would not have to waste much time and money on pieces of training.
• It helps you gain more clients, as most people prefer to do everything online now and with the help of technology.
There are also inevitable drawbacks in using these software systems, but here are some ways on how to deal with them:
• Challenges in integration may occur, especially if you are using a variety of platforms before the transition. To reduce the chances of experiencing this problem, it is always better to get to know the software first, such as reading kennel software reviews and ensuring its features address your needs.
• Teaching your staff and employees about the new software can be challenging, but choosing a user-friendly interface can help you solve this problem.
• Lack of research and consultation from experts may lead to confusion and unfamiliarity with the new software. Thus, it is vital to seek advice or consult third-party expertise. This is a significant part of adopting a new system or going to a transition from the traditional method.
The next time people search "dog boarding near me" on their browser, make sure your business comes on top of the results! Adopt state-of-the-art solutions and software systems to improve your service and process and say goodbye to the hassle and tedious tasks.