Early socialization of puppies and kittens is known to reduce:
New encounters with people, other pets, and situations stimulate pets. Pets who have not adequately socialized are more sensitive to new encounters. Socializing cats and dogs help them accept their surroundings rather than merely conforming to their standards.
Pet daycare provides a suitable environment for cats and dogs to socialize with other pets. Effective pet daycare management technology such as kennel software creates healthy pet daycare centers.
Straightforward Pet Daycare Management Significance to Pet Temperament
Pet daycare management takes a lot more effort, and it provides a lot of pets a place to socialize. Cats and dogs have different temperaments, health, and personality in interacting with others. Some pets are less outgoing and social than others, and they dislike being around large crowds of people or animals.
Pet daycare software helps manage pet daycare centers to run efficiently for both owners and their furry friends. Boarding kennel enterprises require the appropriate technology and resources to provide excellent services.
Each kennel boarding business is unique in its way. The most important thing to ensure is that customers and their pets have a good time. Here are some aspects of maintaining a successful kennel:
1. Encouraging Comfortable Social Area
Each pet should be able to feel comfortable running and playing in the kennel. Social pets can interact and play together, while reserved pets require their area.
A Pet boarding system helps maintain order in the kennel spaces with the details of each pet. Employees should watch areas where dogs interact and get as many details about each client's dog as possible.
2. Boosting Security and Hygiene
Foul scents indicate poor hygiene practices. Pets can become ill due to poor cleanliness.
For safety, playpens should be in good condition and fenced in. Kennel personnel should take heed of any broken toys or equipment to prevent any injuries. Kennel boarding spaces should be tidy and well-organized. Debris and clutter should be out of walking areas. Of course, no one wants their furry friends or any person to be injured by wandering tools or equipment.
3. Providing Proper Medications and Food
Providing high-quality food for pets is part of running a successful kennel. Also, offering medications to the pets in their care is a must.
Not every boarding facility has the appropriate setup and equipment to administer medications. Kennels without nighttime personnel to provide care may cause complications for pets who need more care.
Kennel boarding software helps monitor pet health and activities. It allows users to track, schedule, and store data for pets in their care. Pets in need of more care are supervised and given special attention.
4. Accommodating Kennel Staff and Groomers
Kennel staff and groomers give the first impression to clients and their pets. Kennel personnel must always be accommodating and friendly. Making clients and pets relaxed in their environment and a happy atmosphere for humans and dogs help with socializing.
Dog boarding reservation software helps accommodate clients and pets without trouble. Organized schedules help kennel staff members to arrange their plans accordingly, allowing them to adjust to clients and dogs better.
5. Specific Kennel Floorplans
Kennel floorplans can include three different regions. One area is for pickup and drop-off zone, another is a social area, and another is where pets can rest.
Better pet daycare management helps keep pets in place. Enhancing security and monitoring systems help keep the area safe for personnel too. It provides peace of mind for clients, knowing that their pets are protected and secure.
Preventing anxiety and fear in pets means keeping them in a secure area.
6. Efficient and Faster Services
The kennel boarding technology is expansive and versatile. The same technology applies to cat kennel software in catteries.
Petcare businesses must implement software solutions that improve the production and delivery of services. Such software is necessary, especially when consumers expect to schedule services or update their pets' information in the kennel.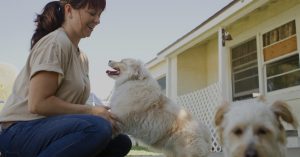 The Importance of Socialization in Pet Health
When animals get scared, they react in different ways. Some animals growl or bite, while others curl into a ball or scurry away to hide. Although pets are domesticated, others still behave with aggression or anxiety.
Pets like cats and dogs do not inhabit the wild and must learn from the other pets, owners, and environment.
In an environment such as kennels and catteries, pets need to be properly socialized. Kennel boarding means interacting with different animals with different personalities.
When Should Pets Start Socializing?
The optimal time for socializing in puppies is between 3-14 weeks of age and 3-9 weeks in kittens. They quickly create relationships and attachments throughout this phase of development. They have more developed senses, are more self-reliant, and are physically capable of interacting with others.
Getting the most out of pet socialization means starting during the time frames. Pet daycares are the best option to let puppies and kittens socialize with humans and other animals.
An efficient pet daycare management boosts pets' social skills and relationships with other pets when it becomes part of their daily routine. Cats and dogs can play in a safe environment with personnel trained to read their body language. Pet software assists in creating a better and stress-free environment for clients, personnel, and pets.
Listed below are some essential pieces of advice on how to socialize puppies and kittens:
Request socialization plans when adopting a new puppy or kitten.
Creating a kitten's or puppy's socialization plan to help them adjust to their life in their new home. Planning exposures to other pets, people, locations, activities, and objects help them adapt to their new environment.
Provide excellent and varied experiences regularly to encourage kittens and puppies to try new things without aggression or fear.
Puppy or kitten socialization programs that are well-managed are a fantastic approach to socializing new pets during this critical period.
Puppies and kittens without complete vaccination should not be around unvaccinated animals or environments (such as outdoor parks).
Give rewards to pets when responding to positive social contacts with calm and lively responses.
If behavioral problems arise in pets, it's best to contact a specialist or veterinarian to develop a socializing strategy.
Conclusion
Not all kennels provide the same level of service, practices, or personnel. It's up to you to stay ahead of the pack. Take some time to observe successful kennels to learn how they operate.
K9Sky pet daycare management software has the features and functionalities you need to run your pet care business. All your business data is secured, and our innovative software technology ensures the safe management of customer data.