Pet boarding is an excellent opportunity for pet lovers to turn their passion into a business. However, starting a dog daycare can be just as tricky. There are many factors to consider to ensure a successful business, and there are also a few pitfalls to avoid.
The good news is that while successful businesses take a while to build, it's possible to plan them. Having the right resources and information can help you succeed in running your pet daycare.
What Should Pet Daycare Businesses Expect When Starting?
Starting a business comes with unexpected challenges, but you can make it work with the proper planning and research. Here's what you need to expect when starting a pet daycare business:
1. You Need to Reach Your Target Market
Searches for "dog daycare near me" have increased significantly, which shows how popular pet daycare has become. Your target market will obviously be pet owners, so your location needs to be close and relatively accessible.
Aside from physical location, you also need to reach out to your target market through social media. Creating your business page on Facebook or purchasing ads can widen your reach.
2. You Need to Price Your Services Accordingly
In addition to boarding, you also need to offer something that lets you stand out. Most businesses usually offer something through an additional service or a small store that sells pet care goods.
After establishing your services, the next thing you need to do is figure out your prices. A few factors to consider when pricing usually include location and operational costs. You can get a feel for this by checking how other pet daycares price their services as a reference.
3. You Need to Manage Your Finances
Business owners need to consider their finances. When starting your daycare, keep in mind that its profitability will depend on different variables, such as:
Market reach (advertising, social media presence, physical location, etc.)
Services offered (overnight and daytime care, grooming, training, etc.)
Pricing
Business costs (fixed and variable)
You also want to manage the client relationship aspect of your business, which includes things like sending invoices and receipts. Investing in kennel boarding software is an excellent start to simplifying this process.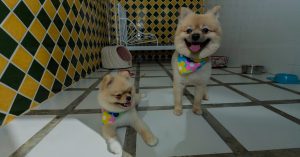 Pet Boarding Mistakes Dog Daycare Owners Need to Avoid
Dog boarding services are ideal for pet owners who can't take their companions with them when they travel. However, dog boarding can have unexpected challenges, even for the most passionate animal lovers.
Here are five pet boarding mistakes that dog daycare owners need to avoid:
1. Not Delegating Tasks
As your business grows, you will need a few extra pairs of hands to tend to clients' pets. This means finding qualified and passionate staff is a priority, including boarding staff and management.
On top of this, you also want to automate and simplify as many processes as possible. Having the right dog daycare software is a great way to do this. Aside from keeping information easily accessible, it also makes boarding simpler.
2. Not Treating Your Business as a Business
Animal care may be your passion, and it might be something you would even do for free. However, a pet daycare business is still a business – you need to consider the costs of caring for animals.
While you shouldn't be ruthless about it, you need to consider money, staffing, and even daily expenses. Medicines and other supplies can be costly because of their limited availability.
3. Not Having the Correct Information on File
Pets have different requirements. You should note specific medications, behaviors, or even supplements beforehand. The same also goes for pets' vaccinations.
Many pet daycares ask for this information so that the staff knows what these pets need. To ensure this information is readily accessible, they also need the proper care management software. Be sure to find out what suits your business' needs!
4. Taking On More Pets Than You Can Handle
Your business's most significant selling point is the safe, comfortable environment for pets. Because you need ample space to provide this environment, capacity is essential.
Going over the limit means risking the environment you can maintain for the pets. This makes it more likely for dogs to feel more anxious and stressed, which results in a poor experience.
What Do You Need to Start Your Pet Daycare Businesses?
Successful dog kennels need many things to stay up and running. It includes providing the best services possible, either directly or indirectly. To turn your passion into your chosen career path, you must have the following:
Staff
Having a few staff members to handle clients' pets and the business processes will definitely help. It's important to understand that you won't be able to do everything alone when your business grows.
When taking on clients, you want the best people for the job. You also want to ensure your staff knows how to access pets' information via the pet boarding system.
Equipment
There are quite a few things every dog daycare must have. Consider having a plentiful supply of the following when opening your dog kennel business for the first time:
Different types of pet food and treats
Cleaning supplies
Leashes
Refrigerator (well-stocked with medicine and food)
First aid kits (both for people and pets)
Waste bags
Towels
Toys
Of course, other tools aren't as obvious. For instance, you also need an adequate computer and the right pet management software. You need cashiers, air purifiers, and even other comfort items like coffee makers on-site.
Management Software
Today, having the right software to keep all your information in one place is just as valuable.
To make your business viable, you need more than just Quickbooks for pet groomers. You need the right pet daycare management software to keep the necessary information on file and simplify different processes.
The Takeaway
Running a pet boarding and grooming business can be exhausting if you don't know what to expect. Like any business, you need to consider your operational costs while meeting your clients' needs.
For this reason, you need the right people and the right equipment to keep pets clean, safe, and happy. On top of this, you also need the right software to keep owners' and pets' details accessible in one place. This is where a dog kennel app can come in handy.