Pet grooming and boarding facilities are popular pet care enterprises worldwide. The pet industry is continuously growing despite the pandemic. After all, pet owners still require care for their pets, rain or shine.
Dog kennel app is becoming more common in the pet industry. In a pet care business, most customers look for reliability, flexibility, and trustworthiness. Customers frequently look up a business' reputation online. They will check for reviews of other customers who have relevant experience with the daycare.
As a business owner, you need to offer various options to your customers as technology has provided many opportunities to businesses. Most business transactions and bookings are online. Pet kennel software provides many options for your company and clients.
Kennel Software Makes Your Pet Care Business Standout
A pet boarding business, like any other business, requires sufficient funds to get started. Customers would like services such as online booking, online payment, boarding kennel reviews, appointment setting, etc. As technology advances, you'll need to have up-to-date pet boarding and grooming software integrated into your business to provide these services.
It's a big responsibility to take care of someone else's pet. Operating a boarding and grooming business involves a great deal of effort and planning. Kennel owners who do not manage their time well will often miss out on opportunities and suffer as a result.
The best way to ensure these features in these enterprises is to leverage technology –specifically, a good kennel software program– to assist with that effort. It's advisable to invest in technology that can effectively take over other tasks.
Integrating kennel suite software into your business will increase the efficiency of your workload and daily operations. It's also an excellent approach to publicize your company while also letting potential customers know that you have an advantage over your competitors.
Kennel boarding and grooming software is the most effective approach to keep things in order. Using this kennel suite software is more efficient with trained employees. As a result, file storing and appointment booking will be a lot easier. It's challenging to run a profitable business if you don't keep track of your customers and finances.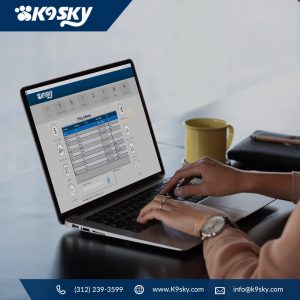 The Gains You Get when Integrating Kennel Programs into Your Kennel Business
Standing out in today's market may need you to get help with technology. Developed programs help in administrative tasks and requests from clients. Customers prefer online appointment systems, online payment, boarding kennel reviews, and so forth. You'll need up-to-date kennel programs integrated into your business to provide these services.
Understanding the advantages of kennel software can aid you in determining its suitability for your business. Let's look at the benefits of integrating kennel software program into your business:
• Online Booking and Appointment System: Travel planning and in-home pet care are convenient services pet care businesses offer. Although you can offer more simple solutions, you can provide them to your customers. More service options mean enhancing customers' experiences and loyalty. The kennel software program enables your customers to schedule appointments and boarding reservations from their smartphones at any time and from any location.
• Updated and Detailed Records: Kennel business owners can keep a complete record of all business transactions. They can do so by using kennel boarding and grooming software. Reservations, bookings, payments, boarding and grooming personnel, and materials are just a few tracked items. The software can also maintain detailed records of customers' pets' vaccination records. The software also records age, breed, color, size, and medical history.
• Fast and Simple Invoicing: Kennel boarding software makes it possible to eliminate paperwork. The business can use a kennel software program to receive payments online and generate and edit automatically. The invoice is in an electronic format, and owners can submit it via email instantly.
• User-Friendly Search Tool: A search feature included in the boarding and grooming management, allowing you to quickly and easily locate data. The platform's search filters allow users to access some search filters freely. These search filters include pet identification and owner's contact information. When you don't have much time and need information immediately, this search function comes in handy.
• Integrated Point of Sale Structure: A business owner can quickly checkout with a credit card processing device using an integrated point-of-sale structure. This feature can scan vouchers and barcodes on all of their products using this structure.
• Comprehensive Report Analysis: This feature is a thorough yet simple reporting essential for making future decisions and business plans that will benefit your company's growth and future.
• Enhanced Data Security: Cloud kennel management software adheres to high-security standards to ensure that customer data is kept safe. Daily software upgrades improve data security. There are different software products available for each operating system model.
• Regular System Updates: Developers of kennel software for cloud-based is constantly improving and updating the system. The growth of your business is essential. That is why updates for your cloud kennel management software are vital to fixing flaws and problems. This strategy will allow you to restart, providing your clients with products and services swiftly.
Non-Negotiable Features When Selecting Pet Kennel Software
The features you need from your kennel management software differs. It will depend on your line of work and the records you want to maintain. However, before deciding on a kennel software program, make sure that all staff working in both kennel and office know how to operate the system. Here are the key characteristics of good pet kennel software:
• Online Reservation and Tracking
• Vaccination Tracking
• Customer and Canine Data Storage
• Upgrades and Maintenance Support
• User-Friendly
• Cloud-Based
The Advantages and Disadvantages of using Pet Kennel Software
Growth also comes with stagnation. Numerous accounts prove that using kennel boarding software. Enumerated below are some of the advantages and disadvantages of integrating a kennel software program into your business:
Pros:
• It enables you to operate and give your business more efficiently, handle team issues, and meet required deliverables.
• Operating the correct kennel software program will aid in faster marketing.
• There is no requirement of effort and money on training since the software is user-friendly.
• It assists you in gaining new consumers since most people recently want to accomplish tasks online with the assistance of technology.
Cons:
• Having prior software installed can lead to problems when installing a new one. You and your employees should familiarize themselves with the newly installed software.
• It can be challenging to teach your personnel how to use the new kennel software. Picking a user-friendly design is a solution to this problem.
• Lack of research and expert input may cause confusion and unfamiliarity. It's advisable to research third-party experts.
K9Sky Kennel Management Software
K9Sky provides kennel boarding and grooming software that helps in running your kennel business efficiently. Our kennel suite software has everything you need to manage a full-service pet business—kennel software is freely available for 30 days. We offer desktop and web-based programs that are accessible in any location. We provide the best free Kennel software for a demo.
Running a pet business is a rewarding experience, especially when you can run it smoothly. You have loyal customers coming back and new customers choosing your services. It's also an excellent approach to publicize your company while also letting potential customers know that you have an advantage over your competitors. K9Sky's Kennel management software is sure to help you to get there.