If you're like most pet lovers, you must have considered working with them. Perhaps you've previously worked as a dog groomer, walker, or pet groomer. Thus, it makes you wonder if starting your own pet grooming business is the best way to go.
It could be a wise decision, but you need proper planning. The Pet grooming business is a rapidly expanding area of the multi-billion-dollar pet care market. Besides, every dog owner understands how difficult it is to keep their pets clean and well-groomed most of the time. There will always be a dog in need of earwax removal, ear cleaning, nail clipping, or breed-specific trims.
Here's how to get your dog grooming business off the ground. You have several choices; the first option is to open a permanent physical store. The second alternative is providing mobile pet professional grooming services to your prospective clients.
If you're looking for information on establishing a dog grooming business, look no further, as this article will give you the information you need.
How to Start a Pet Grooming Business?
If this is your first business venture to entrepreneurship, you may be thinking about how to start your own dog grooming business. Well, worry no more because this article will guide you through it.
1. Define the concept of your dog grooming service.
How do you picture your potential dog grooming business? Take some time to write down the vision of your business. Consider the existing pet grooming services in your neighborhood and how yours will vary.
The most successful entrepreneurs consider their potential clients and try to meet their requirements. You could also consider the actions of your neighbors. That may seem strange, but it provides information about your customers, preferences, and willingness to spend. Is yours a city where individuals pay others to complete a task for them or do they prefer to do it themselves?
Every one of those preferences reveals information about your prospective client's mindset. Mobile dog grooming delivery is ideal for busy people and older persons who have difficulty getting around because you drive to them and consider their situations. Assess the types of individuals (and their dogs) you see in your neighborhood when deciding on the kind of dog grooming service that would work best for you.
2. Registering and Naming Your Dog Grooming Business
Isn't it fun to come up with a name for your dog grooming business? Because there's no limit to imagination and innovation, you've likely encountered lots of charming pet business names over the decades.
However, there are several things to consider in naming your dog grooming and Scheduling service. You want it to be one-of-a-kind while yet being simple to recall. You'll want to check that it's web-ready, which means that nobody owns it yet and that you may purchase the web domain. Check your desired business name in your local business registry. If you aim to go nationwide, check for the Department of Trade and Industry trade names.
Next, double-check that it's viewable on the social media channels you intend to use. It's never a joy to complete all of your registration steps only to discover that your Facebook page someone already has.
In addition, check your local area's "doing business as (DBA)" regulations about conducting pet care services in the neighborhood. It is beneficial to sign up for a local business permit, register for business taxes, and follow the city's zoning requirements. Having a legit business permit increases your credibility and trustworthiness. Most clients prefer a legit business and pay more for its services than going for an unregistered business not covered by the business laws.
3. Acquiring Dog Groomer Training and Certification
Dog grooming salons are exempt from the same regulations that apply to human beauty salons and barbershops. That is, you won't need a certificate proving that you've undergone training to groom a dog. That isn't to say that you wouldn't benefit from getting some classes.
Most dog groomers would agree to get formal training in dog grooming. Also, it is to your advantage to know the dos and don'ts in the industry. For example, breed-specific hairstyles and pet parents expect their dogs to return to them having the requested and appropriate cut. Certifications and training validate your expertise, even if they aren't technically required.
In addition, many groomers appreciate the sense of community that comes with meeting other groomers through the training sessions.
4. Deploying Business Administration Software
Integrate a pet grooming booking software for your enterprise. Software technology allows you to track your finances, clients, and employees. The traditional way of doing business includes setting appointments over the telephone. With the help of the pet grooming booking software, you can automate recurring business processes. You can streamline daily operations so you can focus more on growing your business.
Appointment scheduling software, payment processing software, and even online review software can be available in one platform. If you are worried about your existing business systems, the pet grooming software is compatible with most operating systems, such as grooming software for mac. The correct grooming kennel management software assists in the supervision of your company and generally makes your operations more accessible, faster, and convenient!
5. Charging Your Dog Grooming Clients
Trying to compete based on pricing is one of the most common mistakes new entrepreneurs make. While it's enticing to offer "introductory" pricing, you'll be able to attract new clients, but this can backfire on the progress of your enterprise in the long run. Although not all, most customers looking for a cheap deal can be the most demanding clients. Furthermore, it does not instill loyalty from your clients. Once they find a place "cheaper," they'll immediately jump out on the next lower price. Lowering your cost isn't ideal for your pet care business. Over time, it will cause groomer burnout resulting in poor grooming practices.
Most successful entrepreneurs battle on the idea of customer service, high-quality products, and client satisfaction. The competition does not rely upon terms of quantity or price ranges.
Instead, it would help if you preferred your rates to represent your actual costs, such as taxes, coverage, and an emergency reserve. There will be times when you face "force majeure" that could incur costs. The better prepared you are, the better you will be to deal with unforeseen circumstances.
6. Retaining Loyal Clients and Gaining New Ones
Loyal and satisfied clients are the lifeblood of every business. Getting to know your clients takes time. Nevertheless, it is time worth spending. You can get more business when you understand your clients' preferences, their pets, and the grooming services they regularly avail of.
When you have a steady stream of returning clients, it's easier to plan your day (and your revenue). To raise standards for your clients, you must communicate clearly. The small things that matter, such as pleasant greetings, a quick tip for their pets, or mailing them a greeting on their dog's birthday, can be a lasting gesture your clients would appreciate.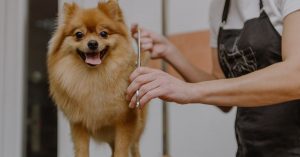 7. Conducting Personal Growth and Development Sessions
Running a business requires a wide range of hard and soft abilities. Yes, you'll need a basic understanding of accounting as well as excellent communication abilities. You'll require marketing and management skills, as well as a customer-focused approach. All of this is something that can be acquired and developed.
However, suppose you're a novice to the business. In that case, you may well not understand how vital it is to build resilience and perseverance to keep going when things become challenging. Look for and learn from resources that can assist you with your new venture.
Don't leave out your staff. Hence, you must conduct personal growth and development sessions with them. You can hire a life coach or a team counselor to assist you in this endeavor. You can also share your nuggets of wisdom when communicating with them.
8. Invest In Equipment That You Need
The variety of equipment you'll need for your dog grooming service will depend on the type of grooming services you're offering. You'll need several huge tubs with pull-down nozzles if you're providing self-serve doggie washing. Your clients will need disposable aprons to keep their pets from soaking them, and you'll need various soaps for different skin types.
You have the option of using new or old equipment. There's no reason why you shouldn't start small and expand as your company grows. While entering into this new venture, you should invest first in the equipment you need.
Conclusion
Pet grooming is a remarkable career that allows you to work with pets. Whether it's mobile dog grooming or setting up your pet salon, you need to study the business and plan accordingly. Most significantly, it's not a job for the faint of heart.
You're much on your journey to victory if you have the devotion, patience, eye for detail, physical capabilities, and courage, as well as a passion for animals.