Anyone can start a pet care business, but perhaps animal lovers will enjoy a pet grooming business more because of their love and passion for the animals and their welfare. Among the most successful pet industries are pet services such as dog grooming delivery or mobile dog grooming. The average profit margin of pet professional grooming services can be as high as 68%. Still, like every small business, a successful dog grooming salon requires a great business strategy and plan.
You may be asking how to start your own dog grooming business at home? Here are the areas in a pet grooming business to map out a plan for your dream dog grooming salon:
Conduct Market Research for a Pet Grooming Businesses
Research on your local competition, customer needs, and industry trends. Join professional pet business associations, and subscribe to pet industry newsletters and blogs. You may also be part of community conversations to get insider knowledge about the pet care business through these channels. For example, talking to customers and pet owners will allow you to determine which services and products they prefer when grooming their pets.
Visit your competition as a customer and take notes on what services they offer. Then, differentiate your services to set you apart from the other pet grooming business enterprises.
If your local area has stiff competition, try the mobile pet grooming business. After which, you can then integrate pet grooming booking software into your services to add up to your advantage.
Pet Grooming Business Licenses
Getting business licenses and permits can increase the credibility of your pet grooming services. It is necessary to acquire dog grooming certification and professional training. Check your state's business regulations and required permits in your area.
Developing an Integrated Marketing Plan
The dream of any small business start-up is to earn a profit while offering quality service. Combining the four core components integrated with marketing plans can help your pet grooming business achieve success.
Here are the four core business components integrated with a marketing plan:
– Products and Services
– Promotion
– Price
– Distribution
It will also be easier if you have a laptop, irrespective of the operating system. After then, integrate effective software like grooming software for mac to boost your market sales and audience.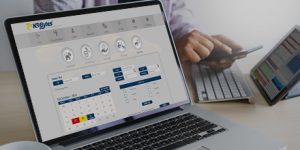 Products and Services
In starting your pet grooming business at home, think about what specific grooming services you will provide. You can offer primary services such as bath, cut, dry, and nail clip services. You can also differentiate by including more trendy stylized services like fur dying.
Your market research can help you determine these decisions. Take into account the cost of equipment, venue rental, and overhead costs to provide these services. Adding pet products to your grooming salon can also increase your revenues. To help you efficiently manage your products and services, you can invest in grooming kennel management software.
Promotions
Getting the word out about your pet grooming businesses entails the proper mixture of traditional print media – flyers, brochures, business cards – and current marketing promotion strategies – digital marketing tools.
Post flyers in vet clinics, pet stores, and pet communities in your area to reach customers in your neighborhood directly. Publish relevant content on your website, including social media channels like Twitter, Facebook, and Instagram. In addition, there are digital marketing companies that provide small businesses a complete online marketing plan to facilitate coupon promotions, SEO marketing tools, customer loyalty programs, appealing virtual storefronts to bring you more customers from the internet.
Price
Setting the price for your pet grooming services does not necessarily need to keep up with the costs of the competition. But you also don't want to price your services too high or too low.
Setting a high price on your business can drive away customers unless you offer something unique that sets you apart from other competitors. For example, your pet grooming facility is located in an area with enough clients to support the business with the level of price point.
However, you need to avoid pricing your services too low. In this situation, most customers will consider less about the quality and focus more on the price. Thus they tend to be less loyal to your business. Focusing so much on the price is a poor business strategy to develop. The customers you attract are probably just hopping from salon to salon looking for promotional pricing.
The best price level to set for your pet grooming services is to establish a "healthy" margin. You can do this by calculating the operational costs and allowing for the profit needed for the business to grow. So study the competitive pricing but don't make it the primary basis for setting your price.
Distribution
Distributing your pet grooming services to your clients will depend on the needs in your location, the type of pet grooming services, and the kind and vision of customer service you want for your grooming salon.
If your house is in an accessible area, renovate the storefront to help people see your business. Establish a good partnership with a vet clinic, pet shop, or mobile grooming businesses that complement your services.
Understanding the Trends in Pet Grooming Industry
Is dog grooming worth it? The pet grooming industry is rocketing to the sky thanks to the increasing pet ownership rates, shift in consumer behavior regarding pet care, and economic factors. According to the US Pet Ownership and Demographics Sourcebook, over 60% of pet owners consider their pets part of the family. The increasing industry revenue in the pet grooming industry complements this finding as more households spend their extra income on premium pet grooming services.
According to a Forbes article, almost 85 million US households are pet owners. Within the last 30 years, the total number of households owning pets rose from 56% to 68%.
However, because of the low barrier of entry into the industry and high demand for pet care services, business competition has become stiffer over time. Therefore, drafting a comprehensive business plan with integrated, cost-effective marketing strategies is vital for long-term business success.
Education, Experience, and Skills Execution For a Successful Pet Grooming Business
Although there are no strict regulations requiring pet care businesses to get certified or get a formal education in pet grooming, it can put your business at a great advantage. Remember that most households consider their pets as part of the family. Thus, they want to trust their pets to people who know what they are doing and have gone through proper education, training, and certification. Therefore, it can boost your business credibility to great lengths.
In addition, having the proper knowledge in pet care can be beneficial in handling pets in a grooming facility. Getting your Pet First Aid and CPR certification through organizations like the American Red Cross can benefit your pet care facility in case of emergency.
Pet owners perceive pet grooming as a luxury service they want for their fur babies. The most common reasons pet parents bring their pets to the grooming salon are busy people who don't have the time, knowledge, experience, and skills to groom their pets at home, so they seek professional services. It gives trained groomers excellent opportunities to start a small business on pet grooming and serve their fellow animal lovers.
Fortunately, there is also a demand for professional pet groomers. In a study conducted by the Bureau of Labor Statistics (BLS), the need for pet care workers grew by 20% from 2016 through 2026 compared to other skilled workers, with an average of 7% growth for all industries as a whole.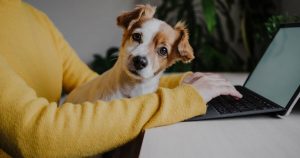 The Pros and Cons of Starting Pet Grooming Business at Home
Now that you might already know about the business and how to start dog grooming at home, you might also learn about the pros and cons of establishing at-home grooming services.
The Pros
There are multiple benefits of owning and running a pet grooming business at home:
#1. Suppose you are an animal lover and have a passion for improving their welfare. In that case, you can both enjoy running a pet grooming business in the company of animals every day. Getting proper training can benefit you in the long term. Many pet owners consider their pets to be members of the family. Therefore they're looking for other dog lovers who can manage their four-legged companions with the same care that you can provide.
#2. Pet grooming gives you much flexibility in completing the tasks and how you manage your time. If you have the means, you can run your business out of your house. You can work your time reasonably in an area you are most comfortable in, especially if you have the supplies and equipment needed to run the business in the convenience of your humble abode.
#3. There are several choices for marketing and growing a customer base for a pet grooming business at home, just as there are for operating one. You may satisfy a need in the community, locate possible clients, and make it easy for prospective customers to find you by forming a cooperative partnership with other pet-related businesses in your neighborhood. For example, a local kennel software may not provide grooming services for canines; this will allow you to reach out to the clients in your community.
#4. These numerous possibilities you can attain when you offer pet grooming services at home will also allow you to grow your business. Since you have the essential skills to work with various breeds and personalities, you can expand your services to include pet watching, dog walking, or even operating a kennel if you have the room for it.
The Cons
Being a pet lover isn't enough for a pet groomer to succeed. The job comes with its own set of difficulties. While there are benefits, you will also have to deal with the disadvantages of operating a pet grooming business at home. The following are some of the challenges you may encounter in your journey.
#1. The number of pets you can groom at one time is limited.
#2. Take into account the environmental impact of disposing of your at-home grooming waste.
#3. You'll be spending much time in a narrow space.
#4. Unless you invest in a salon, your expansion opportunities are limited.
#5. Because you only groom one pet at a time, expenditures must be high to make it worthwhile unless you hire extra groomers.
#6. Be mindful of your neighbors and ask them before making any modifications.
#7. You're rearranging your living quarters.
#8. There is no distinction between work and home life.
#9. Your clients will know your home address. This setup means less privacy than conducting business in a rented space.
#10. It would help if you also consider planning authorization for any adjustments you may want to make.
FINAL THOUGHTS
Work from home and make a good livelihood – those are everything you need to know to establish your own home-based dog grooming business. Indeed, there are advantages to becoming a dog groomer or setting up a grooming business. However, it's critical to weigh the benefits and drawbacks before choosing whether this is the correct career route for you. Now is the time to let your business thrive and be known.