Are you thinking of optimizing your pet daycare and dog grooming business? Most business owners are visionary; they know opportunities are there even before they present themselves. If you are thinking of ways to further improve your pet boarding business, consider subscribing to K9sky dog grooming booking software. Here are the benefits you can get when you have Daycare Check-in Software in place:
Quick Accessibility for Clients
Most people nowadays would like instant access to everything they need or want. Time is of the essence to everyone. Your pet grooming business must also keep up with the needs of your clients. Subscribing to a cloud-based Dog Grooming Booking Software allows your customers to make appointments themselves and automate their pet notes, time of the check-in date, or drop off.
When clients can quickly access your pet grooming business, dog daycare check-in software makes it convenient for all customers.
Make Announcements and Promotions
With a reliable dog daycare check-in software, you can announce exciting events to your loyal customers, offer promotions, or send reminders of their appointments software via text message and email. You can also send vouchers to your highly valued customers to reward them for their recurring dates with your pet grooming shop. Similarly, new customers can also access your promotions and announcements via your website and make appointments using the web version of the Dog Grooming Scheduling Software.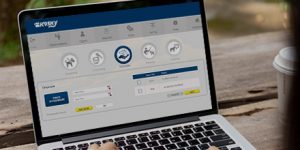 Daycare Check-in software
With the optimization of your pet boarding and dog grooming business, your clients will b able to view vacant dates and set their appointments. As the business manager, you can manage and maintain meetings, client records, sales journals, and records of past and future appointments. Your clients can use the dog daycare check-in software to check in your pet at least one hour before your appointment.
What is the Best Kennel Software?
K9sky Dog Grooming Scheduling Software provides pet business owners with the total kennel boarding software to help optimize the business process and lets you focus on what is truly important – excellent pet boarding and kennel boarding services. K9sky has been helping pet business entrepreneurs prioritize essential tasks to give the utmost tender loving care to the pets entrusted to them.
K9sky best kennel software streamlines appointment setting, pet grooming notes, pet information, services delivered, payment processing, tips and commission tracking, business reports and analytics, and many more. You can access K9sky dog grooming scheduling software via the web-based version, integrated with your computer system or through the mobile application.