The pet grooming business is a fast-growing industry. Any pet grooming business will quickly scale up when using the right business software. The use of technology helped not only the pet business industry but also every industry worldwide. Since most pet parents highly rely on the internet and their mobile devices, business owners with easy access will benefit greatly. Most fur parents expect the groomer to be tech-savvy. 
That's where the pet business software comes in. With the proper use of the correct dog grooming salon software, pet business owners will not only grow their dog grooming business but will also give their customers an enjoyable grooming experience. When a client walks through your pet grooming business, they are expecting services that satisfy their needs.
Here are the reasons to look for in the best grooming salon software:
Easy and Convenient Payment Processing
Offering quick and convenient payment methods with customers can significantly improve the relationship between business owners and pet parents. K9sky pet business software is a fully customizable software that allows business owners to modify their preferred payment mode.
Tracks Data with Innovative Inventory Management
Monitoring business products and inventory is a very time-consuming task. K9sky pet business software has an easy to use and powerful pet grooming point of sale software with an inventory system. It also tracks the client's purchase history, lets business owners set up loyalty programs, and analyzes future use data.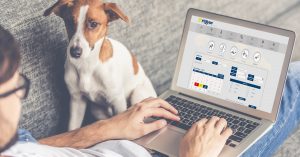 Book Your Pet Groomer Wherever You Are
Not all pet parent is capable and has the time to take their pets to a grooming salon. Dog grooming salon business offers a mobile grooming service at particular locations. K9sky grooming salon software helps business owners manage their transportable grooming salon by creating agile grooming associations according to their regions. 
Book and Pay Online
Business owners can manage their on boarding software for pet resorts with ease and accuracy, from online bookings to payments with k9sky onboarding software. This software features an automatic system of runs and suites and scheduling of services, diets, medications, and run types and reservations before or after the pet is checked.