Are you using kennel software for your pet service business? If you haven't yet, here are some ways to grow your business through K9sky dog sitter business software.
Pet sitting is a profitable business that never goes old. If you are a pet lover with this type of business, you are in the right industry. Pet parents are increasing each year, so pet grooming and pet sitting businesses are always in demand.No matter how in-demand pet businesses are, those without the right management cannot strive to the top or even get along with other competing companies. Thus, dog sitter business software is essential. Are you still wondering how paid and free kennel software helps you?
Making the Most Out of Doing Your Passion
You may have read this multiple times, but the main reason why you are doing a pet sitting business is that you love dogs; and maybe cats, too. If you are having a good time serving those four-legged friends, you surely want to give them and their owners the best service possible.
K9Sky free kennel software helps you give your clients a useful service by keeping the fur friends happy. Its features allow users to create and cancel a reservation at any time they wish. Through a single finger tap, clients can make an appointment, and owners can keep track of an ongoing schedule. The right dog sitter business software also reduces administrative tasks; thus, a minimized need for the workforce in this area.
No Missed Appointments
A missed appointment costs you money. Some things might come up, and people forget, so you need to set up your schedule to contact clients and remind them. But isn't this a time-consuming task for you?
Luckily, the K9Sky dog sitter business software does the work for you. All you need to do is to customize the system, and it will automate appointment reminders. These reminders are sent to the clients either through text or email a few days before the scheduled date. Most pet sitting appointments are due to an important reason, and clients don't want the trouble of having to reschedule.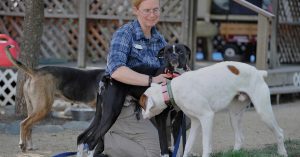 Better Work Flexibility
Gone is the era of spending long hours sitting behind the desk and just waiting for appointments. You can hire someone to wait for appointments through call or text, but this prevents you from making the most out of your money. Using K9Sky free kennel software, you can do other tasks in your shop while waiting for the appointments to come in. It also keeps you from hiring staff to cater to appointment requests or catering queries – one way of saving your money for something more relevant.
Can you imagine the disappointment of a client who traveled for hours to go to your shop, only to find out they can't make a reservation for their chosen schedule? In cases where there is only a limited space for your shop, the reservation software limits the number of clients by disabling booked slots on a real-time basis. It displays unavailability information so that clients can choose another day or time instead.
Systemized Reservation Data
Keeping printed records of your clients' critical information consumes a lot of space in your office. Besides consuming a lot of paper for this, you also need additional shelves and space to place them; hence, requiring additional expenses. Plus, when clients come back for another transaction with you, looking for their record from the piles you have is time-consuming, especially if you already have too many clients recorded.
Dog sitter business software helps you keep all records and organizes them for easy lookup whenever needed. This tool helps you find what you need in just a click of a mouse or a finger tap instead of hours of finding their printed documents. It stores information such as dogs' health conditions, services rendered, name, breed, and many more. Additionally, it keeps all entered records, which can also be updated easily.
Upselling and Cross-Selling Benefits
Pet service software records all client information. You will see what service they availed, add-ons they like, and the products they purchased.  From here, you already know what to offer them based on their preference. It is challenging to offer random products and services to clients without knowing what they want. Most of the time, the random offering doesn't work either because they do not want it or are just not the right client for it. Upselling and cross-selling are great with the appropriate pet sitting software.
This tool also helps you determine what services need improvement and what products are profitable. Although you may do a survey to clients for this concern or search for top brands and services your competitors have, it is time-consuming and does not guarantee a hundred percent success.
Improved Client Service
Great people and the right technology does excellent service. Incorporating good pet care software for your grooming business helps you on a day to day basis. It enables you to integrate everything in one place, and this is what clients are looking for in a pet service company. Because the internet is a passageway for almost all services and necessities, clients prefer doing things independently. They do not have to travel kilometers and chase business hours to get an appointment. Reservations are available at the most convenient time, at their most comfortable positions.
In having a business, you may put yourself in clients' shoes. What are the services you want? How do you like shops to accommodate you? What qualities do you like in a pet sitting service? What process for reservation is the most convenient for you? Those are just some of the thoughts you may ponder. As a pet lover doing the pet service business, you can surely answer these questions and know how to attract customers and keep clients coming.
Report Tracking
As part of running a business, you should regularly track your performance. This practice is vital if you want well-founded growth and the right image to clients. Free kennel software helps record new and repeat clients, frequent visits of each client, a summary of sales, and business productivity. Through this tool, you can monitor and keep track of where your investments are going. You can also determine whether you are making a good profit out of your business or not.
When clients know that you see every detail in your business, they will begin to trust their pet's lives to you when they are away. And once they start to do that, they will probably keep on coming back.
The data analysis given by the software helps you in making plans for your business. It warns you of any possible trouble or bankruptcy and gives you insights for future developments necessary to maintain and improve your business. Dog sitter business software is helpful in many different ways. The most important thing about businesses is giving client satisfaction. If you can provide a good experience, you generate more referrals, more clients, and your business will eventually grow.
Merely having booking software for your pet service business is not enough. You must choose the right software that gives the service you want to achieve, and is worth the money you spend. K9Sky gives all of these benefits and more: you grow your business while saving time, minimizing cancelations and double bookings, and making everything possible with just one tap.